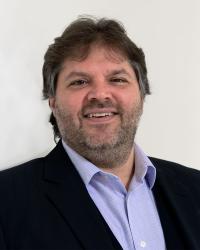 Mark Nyvlt
Dean of the Faculty of Philosophy, Full Professor, Faculty of philosophy
T 613-233-5696 ext 331
mark.nyvlt@dominicanu.ca
Office: 331
I initially came to Philosophy by way of travelling in my youth to Rwanda and Central America, and participating in social justice movements – in the spirit of the Gracci brothers. The pursuit of fundamental norms to measure political behaviours was a search for an arche (a principle) that would lead me to the domain of Philosophy, and to Dominican University College, where I did my undergraduate studies in Philosophy. Having been inspired by my professors, I actively pursued a speculative life.
After having completed my Masters in Philosophy at the University of Ottawa, where I wrote my MA Thesis on Aristotle and Hegel under the supervision of Dr. Theodore Geraets, I then completed a PhD in Philosophy (2004) at Boston University under the supervision of K.  Brinkmann and J. Cleary. My dissertation focused on the role and status of Intellect in the works of Aristotle and Plotinus. I equally benefitted from courses taught at Boston University by David Roochnik, Charles Griswold, Stanley Rosen, Rémi Brague, Daniel Dahlstrom, Henry Allison, Jaakko Hintikka, Juliet Floyd, amongst others, in the Department of Philosophy during its heyday.
In 2007, I returned to my intellectual home, at Dominican University College, where I now serve as Dean of the Faculty of Philosophy and as editor in Philosophy for the house journal Science et Esprit. In 2012, I published my book entitled, Aristotle and Plotinus on the Intellect: Monism and Dualism Revisited. In 2017, I founded the Canadian Aristotle Society, which is housed at the Dominican University, where we host conferences every year on a given theme related to Aristotle. My main intellectual interests are in Aristotle, Aristoxenus, Plotinus, Arabic Philosophy, Ancient Metaphysics, German Idealism, Political Philosophy, and Music.  I am also an active musician and perform regularly in Ottawa and Montréal:  marknyvlt.com.
The Peripatetic life appeals to me the most.  I have attempted to foster in my students an appreciation for this life, and to encourage them to always challenge basic conventional assumptions that too easily animate an uncritical mind. It is a great pleasure to work at Dominican University College, where intellectual integrity remains an effortless and unapologetic standard of the Philosophical life. I attempt to demonstrate in my own life to students that one can be a philosopher and also a person engaged in the world. A peripatetic life requires such integration of intellect and action.
Past Courses:
History of Ideas II. The Middle Ages: More than Dungeons and Dragons
Aristotle and Aristoxenus on the Science of Harmonics
Plotinus and the Neo-Aristotelian Tradition; Plotin et la tradition Néo-aristotélicienne  (séminar)
The Main Doctrinal Currents in the Middle Ages
Political Philosophy
Neoplatonism
Books
Aristotle and Plotinus on the Intellect:  Monism and Dualism Revisited.  Lexington Press, 2012.
Canadian Aristotle Society, Inaugural Conference: Proceedings.  Editor Mark J Nyvlt, Science et Esprit, Vol. 72, 2020.
Papers in refereed journal
« Aristotle and Speusippus : The Primacy of the One? » in Journal of Classical Studies Matica Srpska 13 (2011), 79-93.
"Plotinus on the Generation of the Intellect : The Transformation of the Inherited Platonic and Aristotelian Two Principles Doctrine," Journal of Classical Studies Matica Srpska 12 (2010), 101-119.
Scholarly and professional activities
Founder of the Canadian Aristotle Society (October, 2016)
Editor (Philosophy) for the journal Science et Esprit. (2009-currently)
Vice-Dean and Director of Graduate Studies (2011-2017)